WELCOME TO THE USAGI YOJIMBO WIKI
The Usagi Yojimbo Wikia is a collaborative database for everything related to Usagi Yojimbo characters, comic book series, films and television, and more. Other works from Usagi creator Stan Sakai are also covered here. Because of the wiki format, anyone can create and edit any page on the site, so we can all work together to create a comprehensive database. Be sure to check out the Help pages to get started!
Please visit the UY DojoBoard to express interest in contributing.
If you have discovered Usagi Yojimbo through the TMNT, you should enjoy this article: Teenage Mutant Ninja Turtles. This wiki also includes information on UY's space opera spinoff Space Usagi.
An Usagi Yojimbo-related TV series is now available on Netflix. See the Samurai Rabbit: The Usagi Chronicles page for more on that show.
SECTIONS
Coming soon: Issue and story synopses
---
Usagi Yojimbo, and all related characters and elements featured on this wiki are ™ & © Stan Sakai, unless otherwise noted.
CHARACTERS
TRADE COLLECTIONS
ABOUT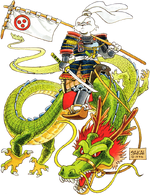 Usagi Yojimbo is a comic book series created by Stan Sakai. It is set primarily at the beginning of the Edo period of Japanese history, where anthropomorphic animals replace humans. The main character is a rabbit rōnin, Miyamoto Usagi, whom Sakai based partially on the famous swordsman Miyamoto Musashi. Usagi wanders the land on a musha shugyō (warrior's pilgrimage), occasionally selling his services as a bodyguard.
WIKI ACTIVITY